There are a few different types of editing: developmental or structural editing, copy editing, line editing, and in earlier stages, concept editing. Most self-publishing authors will typically work with a different freelance editor to help them at each stage.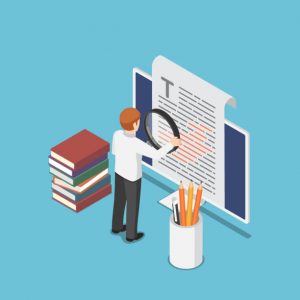 What is Proofreading?
Proofreading is the very final stage of the editing process, it also means examining your text carefully to find and correct typographical and grammatical errors. Proofreading your document shows people that you take pride in your work and are serious about what you publish, it's the process of making your content error-free. So, the content can then serve its purpose or deliver the writer's thoughts. Proofreading makes content suitable for communicating the correct message to the target audience, customers, readers, students, etc.
We might also say that proofreading is nothing but re-reading what we have written but from someone else's perspective.
Why Proofreading is essential?
Proofreading is essential because mistakes in written work can lead to misunderstandings, changes in meaning or intent and can cost companies money, according to the National Association of Legal Professionals. It adds a level of quality assurance to your book that is both essential and expected. Your readers view you as a professional, so it's essential to avoid any typos or mistakes that might suggest otherwise.
Proofreading ensures clarity and helps you deliver your message without any miscommunication. It's the difference between a "peck on the lips" and a "pec on the lips" or any number of misleading errors!
Most of the time people underestimate the importance of proofreading and skip it, due to project deadlines. But it is very important if we want our content to establish an emotional connection with our readers, and if you are writing for your clients, business owners, and publications then submitting a piece of content or a document that has not been proofread can damage your reputation. And you can also lose many business opportunities in the future.
How to improve your proofreading skills:
Read your work slowly and loudly as you might be presenting it to an audience. In this way, you can make sure that your message is being delivered clearly across to the readers.
After rechecking your work structure, now focus on the grammatical errors in the paper. Use the search in document function in the computer to look for common mistakes. A proofing tool in the space next to the word count also helps you keep your grammatical mistakes in check.
Start reading from the end of the work; in this way, you pay more attention to the sentence structure rather than just conveying your message in the work.
Imagine yourself as a reader who is viewing your work for the first time. Read the work from the imaginary eyes of someone else and see where you have made a mistake.
Conclusion.
Proofreading is the last task in the writing process. Proofreading aims to ensure that the document is completely free from Grammar, Punctuation, and formatting errors. Proofreading adds professionalism to writing. Without it, there is a high chance that your written document has errors. Proofreading helps to increase credibility and the chance of publications.