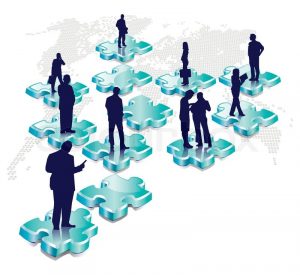 Localization is a team effort. From translators and editors to project managers and developers, it's a necessity for companies who want to survive in a global marketplace. The better the team can work together, the faster and of higher quality are the translations.
Why your localization needs a localization team?
A localization team is an essential group of people that help kick start, manage and ultimately execute large localization projects within your company.
Whilst they might not always have the actual title of a localization team member, there can be literally dozens of people that help support the localization project manager throughout the process, from various departments within your company.
Who do you need on your localization team?
Developing a smart strategy depends on being able to see very clearly who is on your team. It's not just those people closest to global marketing or translation decisions, the best way to identify your localization team is to take a step back and follow the entire life cycle of your content—from before its conception until, and even after, it is in the hands of the consumer. Even those people who barely come in contact with the content may still bear some weight on the localization process in the long run.
Your team should be capable of ensuring that all practices are conducive to localization. So, here's what the makeup of your team might look like.
1. Localization project manager
A localization project manager is in charge of overseeing the efforts in localizing campaigns. Their responsibilities revolve around managing projects and programs, setting objectives, handling budgets, and devising strategies to expand product roadmaps.
2. Localization engineer
A localization engineer develops and produces localized versions of the company's products and services. Supports the creation and maintenance of localization test specifications and scripts for automating localization testing.
3. Marketing specialist
This team member's job is to oversee and direct marketing strategy in accordance with the company's overall brand, voice, and international goals. This individual needs the finesse of a marketer combined with razor-sharp business savvy.
4. Translator
This team member can translate your content, marketing, offer, message, brand, etc., and make it work in a different language. This individual should be a professional translator with proven qualifications and experience.
Team Up With An Expert Localization Partner
Clearly Identifying Who Is On Your Team Is Critical. Developing An Infrastructure For All Of Them To Operate In Is What Brings Your Localization Strategy Home. Only An Expert Partner Can Help You Develop An Ideal Ecosystem For Resource And Cost Savings. The Most Expensive Part Of The Localization Process Is The Human Labor Involved, So You Want To Take Full Advantage Of Automation. Any Tasks That Can Be Automated Without Compromising Quality Should Be Automated. A Reliable Localization Partner With Good Technology Will Enable You To Sort Out Your Critical Personnel Needs While Helping You To Lean On The Latest Tools For Automated Localization Management And Integration.
Localizone Can Help Your Localization Team
Getting Localization Right Can Be Challenging, But LocaliZone Provides You With Translation/Localization Services That Help You Translate And Localize Text Into Your Targeted Language.