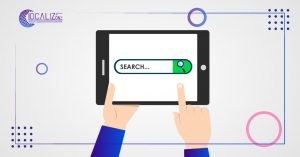 Organic traffic is unpaid search traffic used to describe visits that land on your website. Organic traffic does not come through paid ads to bring visitors on site but through the organic search results. Organic traffic sources include search engines like Google, Yahoo, and Bing.
Why Is Organic Traffic Important?
Organic traffic is important because it is targeted. Organic traffic also provides you with long-term, low-cost traffic that will keep your business growing. When optimized correctly, organic traffic is a fast and efficient way to get more visitors to your website.
How to increase organic search traffic to your website
1. Define a Keyword List
Keywords are used as signposts for search engine bots, so you can see why they're incredibly important tools. Conducting keyword research will help you to see who is searching for what you want to talk about. Your goal should be to secure high organic rankings for your most desired keywords. We need to figure out what people are typing into Google, compare the data, and then optimize our pages based on that. With the recent Bert algorithm update, Google shows only the super-specific content to its user search query. So don't just go with the most popular keywords in your market. Instead, use long-tail keywords that are more specific to your product or service.
Moz is perhaps the best keyword research tool. It will help you to find your next keywords to use, analyze the effectiveness of each potential keyword, and find the keywords that your competitors are using. It's an easy way to effectively research keywords without spending hours doing so.
2. Good Content Will Win Out in Organic Rankings
Before you dig into some of the more technical ways to improve SEO ranking, always remember that writing high-quality content that attracts interest and compels visitors to share it and link back to it is vital. Good content has the best chance of being viral content, and Google rewards content virality heavily in its ranking algorithm.
3. Get Your Metadata
While writing a blog post, you should keep in mind three key ingredients. These three ingredients are Meta title, URL, and Meta description. The reason is that with the help of Metadata, you are telling the search engines what you are talking about in your post. For this reason, we can use lots of plugins on our website like Yoast SEO, etc.
4. Include Internal Linking for Target Keywords
This ties back to relevancy and user experience. Adding interlinking to other relevant pages that also point back to your keyword topics is key to enhancing the browsing experience while also providing more weight to your newly added keywords.
Much like keyword stuffing, too much of a good thing can be a bad thing so place interlinks only where relevant.
5. Follow Google's E-A-T Guidelines
You might be wondering, what does E-A-T stand for?
E-A-T is one of the top three factors for content quality according to Google, which stands for Expertise, Authoritativeness, & Trustworthiness.
If you have any questions about the topic, we will be happy to continue the discussion.