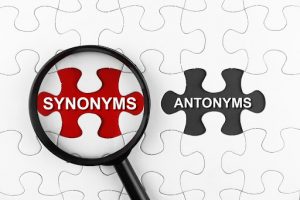 What is a synonym?
Synonym: a word having the same or nearly the same meaning as another in the language, for example, a synonym for "happy" is "elated". It also means the same as the given word. It comes from the Greek "syn" and "onym," which mean "together" and "name," respectively. When speaking or writing, one of the best ways to expand your vocabulary and to avoid using the same words repeatedly is to use a thesaurus to find synonyms (similar meaning words).
If you are looking for ways to improve upon your writing skills start by learning some new synonyms. The correct use of synonyms can transform your writing from boring to exciting or from repetitive to imaginative.
Why is it Important to Use Synonyms in your Speech or Writing?
When you have a good level of English and you're able to communicate in different situations, you start to face a new challenge: increasing your vocabulary. One of the best ways to do this is to learn synonyms for words you already know. It's important because synonyms can help you enhance the quality of your writing by providing your readers with a crisp and unique outlook of your text. Furthermore, it can also improve both your oral skills and your writing skills, as noted in the following section. It's not about being over-complicated either. It's simply about finding the word that conveys, concisely and accurately, exactly what you wanted to say.
Here is an example.
"That is right," he conceded.
How can you learn synonyms to improve your writing?
1- Learn Them In Context
The best way to learn synonyms is in context. When reading a story or article, underline new vocabulary as you go. Try to guess the meaning from the context and then check the word in an English dictionary.
2- Look Them Up as You Need To
The best pieces of writing are well-structured and use a range of engaging language, vocabulary and, expressions. When we read (and when we listen), using different vocabulary helps keep us interested and stops us from tuning out.
3- Expose Yourself to Different Varieties of English
A fun and interesting way to learn synonyms is through exposure to different varieties of English. In terms of day-to-day vocabulary, there is lots of variation between common words in British and American English, but you'll also be surprised by how much difference there is between regional varieties too. And that's not even taking into account slang!
What are the Benefits of Using Synonyms in Writing?
Some of the benefits of using synonyms are that they can:
Make text much more captivating.
Help avoid dull text.
Improve communication between you and others.
Help provide an image in the mind of the reader.
Help avoid boring and repetitive text.
Recommended Tools/Websites for finding Synonyms
Several books and websites can help you build your dictionary of synonyms. Below are some of the recommended tools/websites for finding appropriate synonyms:
The Visual Thesaurus®: is an interactive dictionary that allows you to type in a word for which you want a synonym and then creates "word maps" of related words. It also provides definitions.
Thesaurus.com: is another interactive reference tool that not only provides http://www.thesaurus.com/synonyms and other related words, but also categorizes them based on complexity and length, and whether the word is used formally or informally. The site also features a "word of the day" as an aid for building your vocabulary.
Synonyms.net: provides synonyms, antonyms, definitions, and even translation of the word into several other languages.
Reverso Dictionary: not only provides synonyms, but also translations of a word in other languages.